I spent some time this week upgrading the pictures of a few of the cars on our site. We have a number of extremely handsome classics for sale at the moment, and up until now, I have not had time to ensure the photos do them justice. So I jumped into two Bugeyes, a TR2, a Healey 100, and drove them all to a gorgeous marsh setting near our Quonset hut, to create some new photo albums.
I accomplished my mission, and you can the results from my evening photo sessions peppered in this post. (Feel free to click on any car here to see the rest of the photo album for that particular car elsewhere on our site.)
But that's not what I wanted to share in this particular post.
While I was standing out there in the pastoral setting shown here, I couldn't help but reflect on why we do this. Why do we obsess about the perfect restoration, the best innovation, the most reliable product? Why do you read this blog each week, why does it matter to you enough so that, (as one reader told me this week) if it doesn't show up in his inbox on Saturday morning, he has a bad day?
The more time I spend with these old cars, the more I realize just how special these cars really are. (If you are reading this, you likely agree). I see it in the way people smile at what emerges from our driveway. I see it in the faces of people on the highway, hanging out of the passenger side window, smart phones in hand, filming my presence. I see it in the face of customers and couriers alike, who turn the corner inside our building and see a row of sculptures one can actually drive (and afford).
People want so badly for their automobile to have a personality. And this is a tough thing to manifest in today's new car market. Sure, some folks might give their new Nissan Altima a cute name, but walk through any parking lot and tell me which car is memorable. These days, the supermarket lot is a sea of sameness, and when I leave work, I want my car to provide a kind of sanctuary that is not currently available in what I might purchase at today's auto dealership.
Leslie and I were in Houston recently where we rented a car to drive from the Airport out to College Station to visit a friend. The rental car clerk gave us our choice of keys, and we figured we'd try the Chrysler 300 that looked like the one below. It's a nice new car with some personality, albeit a bit mean.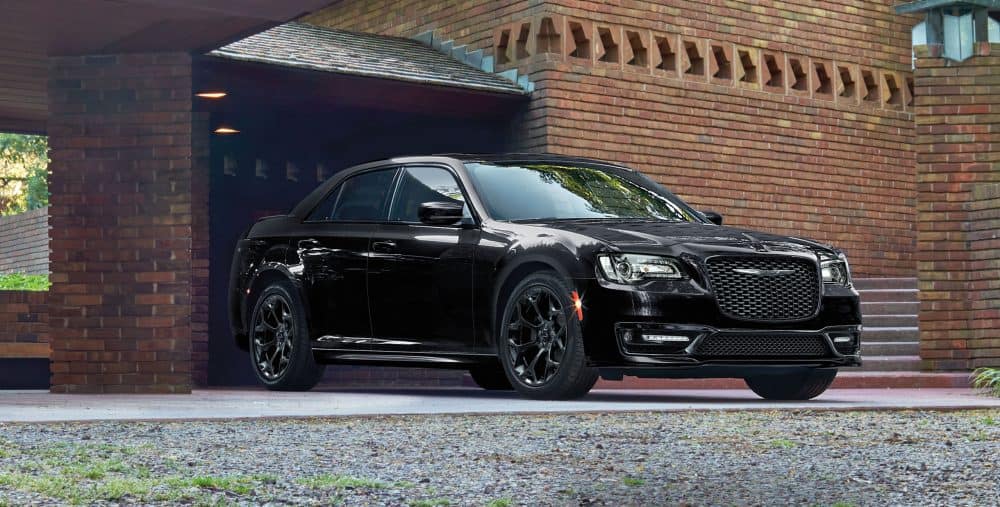 We spent about 300 miles with this car, and while it was a great car that did everything well, it was not a memorable car. It was not a car in which I could ever see myself falling in love. Or collecting. Or that would one day result in "300guy.com (run by my heirs). It is, sadly, just a car.
I am really sorry if you are the director of the Chrysler 300 club, but I think you know what I mean… cars today are not the same as the cars about which we obsess. We are not the same either. What we want, and what the highways in and around Houston (and other cities) seem to verify, is a car that is quiet and comfortable, with amazing digital climate control, so we can drive in peace and quiet in a protective box, perhaps more focused on our personal electronic devices than on the car or on DRIVING.
British Sportscars are anything but that.
And this is my point. We have a different concept of what defines a nice car. It has to have grace. And maybe even leak a little oil. We have this concept in our DNA. Most new drivers do not. And new offerings in the marketplace are not helping our cause. And every year, the new and the old are, well, getting further apart.
And so if you have a classic cars, (any classic car!), won't you please get out this weekend and drive it.
Show it off.
If your classic is just collecting dust in your garage, we'll pick it up and make it run great. Or we'll buy it and find it a new owner who can carry the torch. We need you and/or your car out there to promote the possibility that all cars do not need to be alike.
Our work is about providing vehicles that have a fighting chance of competing on modern roadways, courtesy of LED brakes lights and other reliability upgrades we have tested now on almost 250 cars. Whether you want to drive to the racetrack, run some laps and drive home again, or noodle over to the cafe to enjoy a coffee with your pals, our goal is to make an old car that can drive out of your garage and preach this message to the people. Cars matter. What you choose to drive matters.
Thank you for reading. Thank you for being a part of our mission. We are keeping the flame alive here and we hope more people will join us.